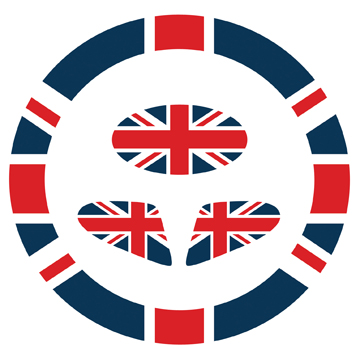 Steering wheel ring, paddle shifters, glove box button - sticker set - Union Jack
Spruce up your 2nd Gen MINI's interior with some Union Jack stickers!

These stickers won't fit in all MINIs! Please check to make sure the corresponding areas are present in your MINI before purchase.
These stickers are sold as a set. Use as many or as few as you need, but make sure they're compatible with your car! Paddle shifters are only present in automatic MINIs and the glove box button is not in all 2nd Gen MINIs. The Countryman, for example, does not have the glovebox button.
Apply the small stickers by simply positioning and then smoothing onto surface. To apply the steering wheel ring, start at the top or bottom of the ring, press into place and slowly work your way equally around the sides until you meet again in the middle on the opposite side. Take care not to stretch the vinyl or it may not fit correctly.
2nd Gen MINI Coopers:
R55: Clubman
R56: 2007 -2013 Hatchback
R57: 2009-2014 Convertible
R58: Coupe
R59: Roadster
R60: 2010-2014 Countryman
R61: Paceman
You might also be interested in