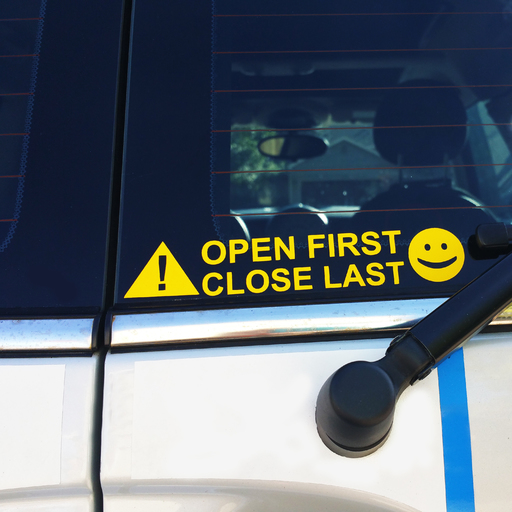 Open First Close Last - Warning decal for MINI Clubman barn doors
As the owner of a MINI Clubman, you know the struggle of others trying to open the barn doors incorrectly. This helpful decal is made to fit that space on the right hand door between the edge of the glass and the windshield wiper, letting those wrong-doers know how to access your MINI's boot without distressing your Clubman. It can also be placed on other parts of the window or on the car's body.
These durable vinyl decals are easy to apply and work great on car windows and other smooth surfaces! Instructions are included.
Available colors:
White, Metallic Silver, Gray, Black, Matte Black, Yellow, Golden Yellow, Metallic Gold, Copper, Orange, Soft Pink, Pink, Red, Burgundy, Yellow Green, Green, Dark Green, Turquoise, Ice Blue, Light Blue, Azure Blue, King Blue, Purple, and Violet
Color swatch can be seen in the example images.
Decal is approximately 6.5 inches wide.
You might also be interested in