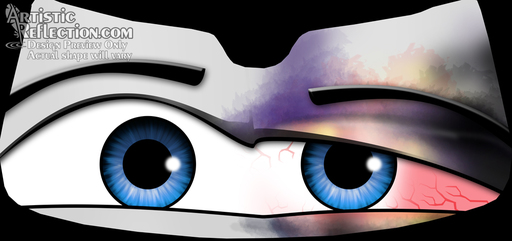 Black Eye - Eyeshade
You think this is bad? You should see the other guy.
Eyeshade Features
Fully Customizable - You choose the colors and expression!*
Graphic made with vehicle-grade vinyl
Art print adhered to folding, fitted, sunshades of the highest quality
Comes with a protective pouch.
*For black vehicles, we print in dark gray instead of pure black so that the details of the design aren't lost.
These are custom-made pieces of art, so please allow 3-5 weeks for delivery. When you place your order, your Eyeshade begins the production process. That means getting cut to the unique shape and size of your car's windshield, then sewn up, and off to printing. Your customized design is created on a car-wrap vinyl material, which is then laminated. This print is installed to your newly-cut shade before it goes to packaging. The completed Eyeshade is slipped into a protective storage pouch, boxed up, and is on its way to you!
Your car will never be so happy to get something in the mail!
Important - Please check the Sunshade List to make sure that your vehicle's template is available. If your vehicle is not listed, please contact me for availability.
You might also be interested in