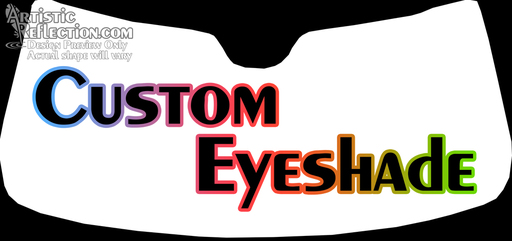 Custom - Unlisted Eyeshade
This listing is for the custom shade that you and I have been discussing. It's not already listed as an expression, so this one is unique, just like your car!
If you are purchasing this listing before your design has been discussed with or approved by the Artistic Reflection team, please prepare your design description and any reference images you may have. Some designs will take more time than others and we may require that you purchase through this listing prior to receiving your initial design preview.
If you are unsure of the complexity of your project, please make sure that you contact us to discuss any new design prior to purchasing this item. We want to make sure that the design is possible!
Don't forget to list as many details as you can at check-out!
Eyeshade Features
Fully Customizable - You choose the colors and expression!*
Graphic made with vehicle-grade vinyl
Art print adhered to folding, fitted, sunshades of the highest quality
Comes with a protective pouch.
*For black vehicles, we print in dark gray instead of pure black so that the details of the design aren't lost.
These are custom-made pieces of art, so please allow 3-5 weeks for completion from the time that your design is approved.
Important - Please check the Sunshade List to make sure that your vehicle's template is available. If your vehicle is not listed, please contact me for availability.
You might also be interested in