Eyeshades
Your car has been wanting to make faces at the kid across the street. And then there is that cute convertible around the corner. Winking eyes would be nice. You know that scary dog down the road? It's terrifying. Your truck wants to express his terror, but just can't find the words. You're here because your car or truck has some major attitude. You know it. I know it.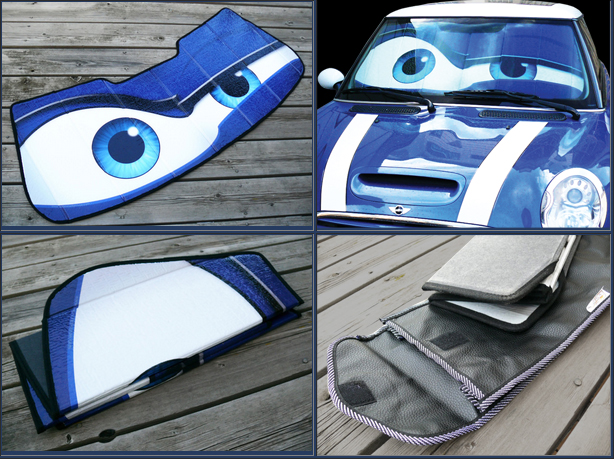 What are Eyeshades? These customized creations are car sunshades that are not only made to fit your car's particular year and model, but their personality too! They are made using thick premium sunshades paired with printed laminated vinyl and they come with a handy storage pouch. Just fold up your shade when it's not in use and tuck it away for the next time you park. Use them anywhere! It doesn't have to be sunny - Let your car look around the parking garage and put a smile on any passerby's face!
Available Expressions: Now there are more than ever! See the examples below, shown in various colors.
Remember, you can choose the colors of both the eyelids and iris to customize your shade to match your car or truck. The colors shown are just examples. If your favorite expression is not listed, please contact us to chat about getting it made! Consider adding accessories like glasses, an eyepatch, eyelashes, or two-tone eyes if you'd like to customize even more! Need more inspiration? See the Eyeshade Gallery - full of photos of cars and trucks wearing their Eyeshades.