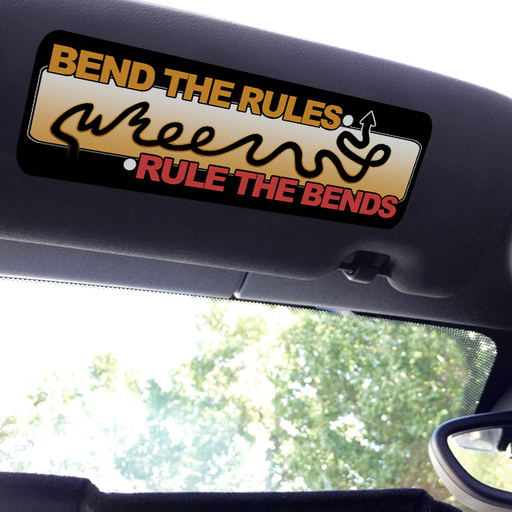 Visor stickers, Set of 2 - Large - Bend the rules, rule the bends
Bend the rules, rule the bends! Let this be a warning to your passengers that this car will purposefully seek out the twistiest roads and they better hold on tight! (Note the word "whee" hidden in the twisting path!)

Visor stickers are made to cover up those ugly warning signs on the back of the visors. No one wants to see that as they are motoring down the road. Worse yet, who wants those things being displayed to the world when your visors need to be in the down position? Let's cover them up with something a little more tasteful.
Each visor sticker is approximately 7.5 inches by 2.5 inches. Note: This sticker hasn't been tested in all MINI models and years. It does fit in the Countryman, Coupe, and Roadster, but please be sure to check the measurements of your visor's warning stickers before purchase. Each visor sticker order comes with 2 stickers.
You might also be interested in