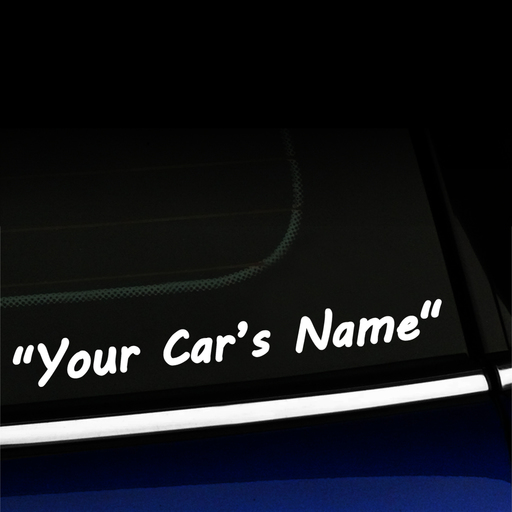 Custom Decal - Your Car's Name
Not everyone understands why we do it, but some of us name our cars. They're like four-wheeled pets, each complete with personality. How can you NOT name them?
This decal lets you customize it with that name. So go ahead. Tell the world that your car's name is Sparky.
Important:
Your decal's lettering will reflect the way you have written it out. Make sure you capitalize the letters that you want to be capitalized.
Quotes (") will only be added to both ends of the name if they are included in the name you enter.
These durable vinyl decals are easy to apply and work great on car windows and other smooth surfaces! Instructions are included.
Available colors:
White, Metallic Silver, Gray, Black, Matte Black, Yellow, Golden Yellow, Metallic Gold, Copper, Orange, Soft Pink, Pink, Red, Burgundy, Yellow Green, Green, Dark Green, Turquoise, Ice Blue, Light Blue, Azure Blue, King Blue, Purple, and Violet
Color swatch can be seen in the example images.
Decal is scaled to approximately 6-8 inches wide, depending upon amount of letters. Additional sizing available upon request.
You might also be interested in