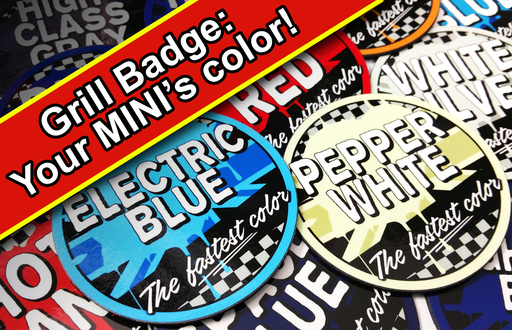 Your MINI Color - Magnetic Grill Badge for MINI Cooper - Choose your color!
Choose your MINI's color for this fun grill badge. You know yours is the fastest color. Just don't tell the others!
If you don't see the color you're looking for, just ask and we'll make it!
This listing is for 1 badge in the color of your choice:
Blazing Red, Bright Yellow, Brilliant Copper, British Racing Green, Caribbean Aqua, Chili Red, Cool Blue, Cosmic Blue, Crystal Silver, Dark Silver, Deep Blue, Digital Blue, Earl Gray, Eclipse Gray, Electric Blue, High Class Gray, Horizon Blue, Hot Chocolate, Hot Orange, Hyper Blue, Ice Blue, Iced Chocolate, Indi Blue, Interchange Yellow, Island Blue, Jungle Green, Kite Blue, Laguna Green, Lapisluxury Blue, Laser Blue, Light Coffee, Light White, Lightning Blue, Liquid Yellow, Mellow Yellow, Melting Silver, Midnight Black, Midnight Gray, Moonwalk Gray, Nightfire Red, Oxford Green, Oxygen Blue, Pepper White, Pure Burgundy, Pure Red, Pure Silver, Purple Haze, Rebel Green, Reef Blue, Royal Gray, Silk Green, Solar Red, Solid Gold, Space Blue, Sparkling Silver, Spice Orange, Starlight Blue, Surf Blue, Thunder Blue, Thunder Gray, True Blue, Velvet Red, Velvet Silver, Volcanic Orange, and White Silver
Badges are 3 inches in diameter and made with extra thick magnetic material.
If you're unfamiliar with grill badges, these fun and interchangeable magnets add a little more personality to your car. They can be attached to metal badge holders that connect behind your license plate or to your car's grill. Mix and match!
Need a grill badge holder? Single holders for the grill and double holders for the license plate are available!
Disclaimer: This item is not a licensed MINI Cooper brand product. Artistic Reflection is not affiliated with or sponsored by MINI.
You might also be interested in