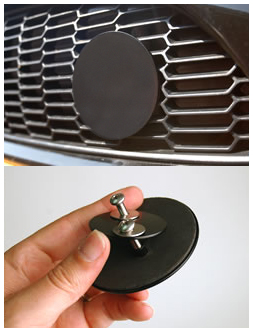 1 Badge Single Holder
You've got the perfect badge picked out for your MINI. Now it's time to make a spot for it on the car!
Introducing the grill badge holder! This little guy mounts right in your MINI's grill and creates the perfect spot to place your magnetic badge. It's easy to swap badges out too. Change out the badge depending upon your MINI's mood! Show off your style, your club, the event you just attended, or anything else you and your MINI have been up to.
The metal bracket mounts to your grill and is easily removable. It has a durable black powder coated finish.
Fits all MINI models -
*Please note: on the 07+ Cooper and Clubman (Cooper S does not require modification) hatchbacks the stock grill requires that two holes be drilled out to allow the 2 bolts to go through from the back.

INSTALL:
On the Gen 1 MINI the grill does not need to be removed as the back is accessible once the hood is popped.

On the Gen 2 MINI's the 4 black plastic rivets come out in about 20 seconds each and the lower trim just pops off with a bit of force and there are a few giant "squeeze tabs" behind the trim and once those are released the whole grill pops off which allows easy access to the back so the badge can be installed.
You might also be interested in