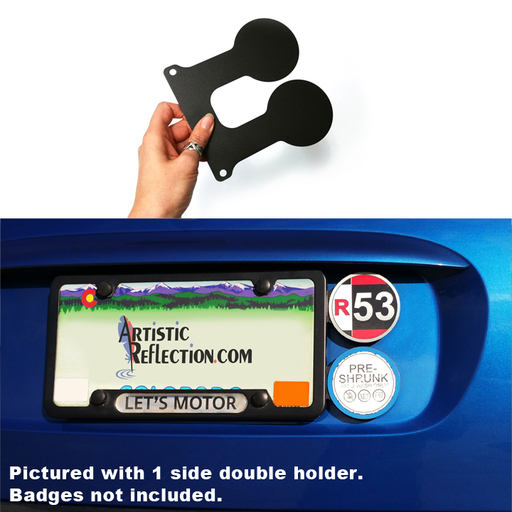 2 Badges SIDE Double Holder
You've got the perfect badges picked out for your MINI. Now it's time to make places for them on the MINI!

Introducing the Side Double Grill Badge Holder! This handy holder mounts behind either your front or back license plate and creates the perfect spots to place your magnetic badges. It's easy to swap magnetic badges out too. Change out the badge depending upon your MINI's mood! Show off your style, your club, the event you just attended, or anything else you and your MINI have been up to.

One of the unique features of the Side Double Grill Badge Holder is that two of these can be installed next to each other, which will allow a total of four badges to be displayed on the front or rear of your car. Simply mount one on the left and one on the right of the license plate bolts and you're done.

Fits all MINI models - plus nearly any other vehicle with standard license plate mounting locations and enough spare room to the sides of the plate. Simply remove your license plate, slip the holder behind it, and then reattach your license plate. The holder mounts to the car using the same bolts or screws that you are already using for the plate. It has a durable black powder coated finish.

Need the single grill mounted holder, quadruple holder, or bar version of the double badge holder? They are also available in my shop!

Disclaimer: This item is not a licensed MINI Cooper brand product. Artistic Reflection is not affiliated with or sponsored by MINI.
You might also be interested in